PITTSFIELD, December 5, 2017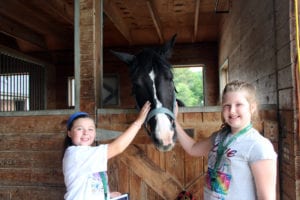 Berkshire Humane Society's Humane Education program is now accepting registration for two upcoming sessions of School Break Camp Humane. Designed for children who love animals – and for parents looking to enrich their children's winter and spring breaks – School Break Camp Humane offers unique, hands-on workshops with local professionals that focus on animal behavior, training, and health. Other activities may include field trips, arts and crafts, community service projects, and one-on-one experiences with shelter animals, farm animals, and local ecology.
The winter session runs February 19-23, 2018; the spring session runs April 16-20, 2018. Tuition is $200 per child for the entire week and covers all supplies and field trip costs, plus a Camp Humane t-shirt. Early drop-off and late pick-up is also available at no additional charge. Arrangements must be made in advance.
Registration packets are available in the lobby of the main shelter, located at 214 Barker Road in Pittsfield. Forms may also be downloaded from BerkshireHumane.org under Education. Returning campers may refer a friend and get $50 off tuition when that friend registers.
For more information and questions, please contact Lizzy Brown, Humane Educator for Berkshire Humane Society, at ebrown@berkshirehumane.org.
"If you like animals, [camp] is good because you get to play
with cats, dogs, bunnies, and other animals."
GRAHAM, Spring Break Camper
"Reading to the kittens was my favorite part of camp."
HOLLY, Spring Break Camper
"You learn how to take care of animals and how to train them."
AVA, Spring Break Camper
"I know these children will make a difference in our world when they grow up.
I have faith in their love of animals – that will show them the way!"
LIZZY BROWN, Humane Educator
---
ABOUT HUMANE EDUCATION AT BERKSHIRE HUMANE SOCIETY
At Berkshire Humane Society (BHS), we believe education is an important part of our mission to care for animals and people of our community. We are proud of our programs for both children and adults who love animals.
Every year, our Humane Education department reaches thousands of children through shelter tours, Camp Humane, the Humane Hero Program, the Explorers Program, and visits to local schools and groups. Underlying each program is the simple message of compassion, respect, and responsibility for all animals and people in and beyond our community. BHS also invites adults to participate in our Coffee Hour Speaking Series – a great way to spend a Sunday afternoon during the winter months.
ABOUT THE BERKSHIRE HUMANE SOCIETY
The Berkshire Humane Society (berkshirehumane.org) is a private, nonprofit, open-admission animal support organization with a twofold mission: to ensure the compassionate care, treatment, and whenever possible, placement of homeless animals through the shelter operation; and to promote and improve the welfare of all animals through community education and outreach.
###