PITTSFIELD, August 6, 2018
 BERKSHIRE HUMANE SOCIETY & PITTSFIELD COOPERATIVE BANK PRESENT WOOFSTOCK 2018
New 5K Race, Downtown Dog Walk, Craft Fair, Live Music
to Benefit Homeless Animals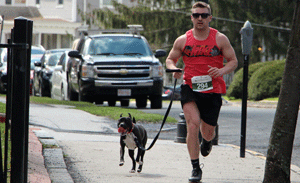 Berkshire Humane Society (BHS) will host its annual fundraising dog walk, Woofstock, on Sunday, September 9 at The Common in downtown Pittsfield. This year's title sponsor is Pittsfield Cooperative Bank.
New to the event this year is a 5K race timed by Berkshire Running Center. Dogs are invited to join for both the 5K race and the dog walk. Routes are to be determined.
"We are really pumped for this year's event," said Cindy Bartlett, President of BHS Board of Directors. "We added a 5K race to get more people involved, which means more fundraising for animals. There will be a craft fair, beer tent, and live music – it's going to be a great time in the heart of Pittsfield. We hope people and their dogs will come run and walk with us, and collect pledges."
All participants are encouraged to collect pledges to benefit homeless animals. BHS receives no state or federal funding and depends solely on the support of its community to care for shelter animals and to fund more than a dozen programs and services that benefit people as well as animals. Some of these programs and services include: Pet Food Bank, The SafePet Program, Humane Education, Ken Freeberg Fund, Purradise, Catwalk Boutique, vaccine clinics, low-cost spay/neuter assistance, Family Dog School, foster care, and the surrender and adoption of companion animals.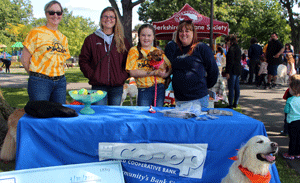 "The Pittsfield Cooperative Bank continually looks for ways to support and improve our community and recognizes the Berkshire Humane Society as an organization that shares this philosophy.  We are proud to partner with BHS and support Woofstock to help find homes for the many dogs, cats and other animals looking for a loving family," said J. Jay Anderson, President & CEO of Pittsfield Cooperative Bank.
"Without our community supporting us, we would not be here," said John Perreault, Executive Director. "It's very expensive to operate an animal shelter, and many of our programs are free or very low-cost to the people who need them. We host a ton of events each year because we are constantly fundraising. We understand the value of staying closely connected to our community and the people and animals that we serve. Woofstock is just one of our many events that celebrate animals and people's love for them – it's also one of the most fun! We're really excited about all the new activities this year."
In addition to free canine games for people and their dogs, Woofstock will include a craft fair, beer tent, food trucks, and live music by Acoustic Groove (top 40 Acoustic rock) and Bottoms Up (modern country). Current craft and food vendors include: Berkshire Bath Bombs, Berkshire Crochet Co., Berkshire Humane Society, The Chuck Wagon, Crafts by Beth, Jewels by Grammie J, Krispy Kone, Lularoe by Brenda and Holly, Midas Touch Nails, Otto's, and Ozzie's.
"The goal of this event is to celebrate people and dogs – to celebrate how much people love their dogs," said Bartlett.
Prizes, such as a Woofstock t-shirt, will be awarded for collected pledges beginning at $60 and will culminate in a private tour of Bartlett's Orchard for donations equaling $500 or more (per individual). The private tour will include apples, apple cider donuts, and a hay ride. For more information on pledges and prizes, visit Events at BerkshireHumane.org.
Participants are encouraged to pre-register online to take advantage of a free, personalized fundraising platform, plus, the first 150 people to pre-register will receive a BHS hip pack. Pre-register for a minimum of $60 by August 20 and secure a Woofstock t-shirt. Dog bandannas will be given out to dogs while supplies last.
Online registration (https://berkshirehumane.org/) is strongly encouraged. Day-of registration begins at 9:00 a.m. with the 5K Race kicking off at 10:00 a.m. and the Dog Walk following at 11:00 a.m. For a complete schedule, visit Events at BerkshireHumane.org.
Sponsors for the event currently include: Pittsfield Cooperative Bank, Greylock Federal Credit Union, A-1 Security, Camp Ground Coffees, Museum of Dog, Onyx Specialty Papers, Inc., West Oil Company, and Pittsfield Veterinary Hospital, among others. Both sponsors and vendors are still being accepted.
To register and learn more, visit BerkshireHumane.org. You may also call (413) 477-7878, ext. 131.
ABOUT THE BERKSHIRE HUMANE SOCIETY
Berkshire Humane Society (BHS) is a private, nonprofit, open-admission animal support organization with a twofold mission: to ensure the compassionate care, treatment, and whenever possible, placement of homeless animals through the shelter operation; and to promote and improve the welfare of all animals through community education and outreach. As a private non-profit, BHS is not affiliated with the Massachusetts Society for the Prevention of Cruelty to Animals (MSPCA) or any other animal welfare group, and receives no public funds from local, state, or federal sources.  The welfare of companion animals and the future of BHS depend entirely on the compassion and generosity of the community.
Since its beginning, BHS has sheltered more than 50,000 homeless animals who are cared for and made available for adoption. In 2017, BHS took in about 1,264 homeless animals, which represents a continuing decrease in numbers from past years. BHS believes that its expanding low-cost spay/neuter programs, community pet food pantry, and other lifesaving programs, have gone a long way to help keep pets in their homes and reduce pet overpopulation. BHS is also proud to place 100% of all adoptable dogs, cats, birds, and small mammals into new, responsible homes.
Although BHS is primarily known as a place to surrender pets and adopt a new family member, these are only a few of the services provided to the community.  BHS has developed into a valuable resource that provides a variety of programs for people as well as animals. Learn more at BerkshireHumane.org.
###