Berkshire Humane Society Seeks 250 Runners & Walkers for This Year's Woofstock to Secure $10,000 Gift to Benefit Shelter Animals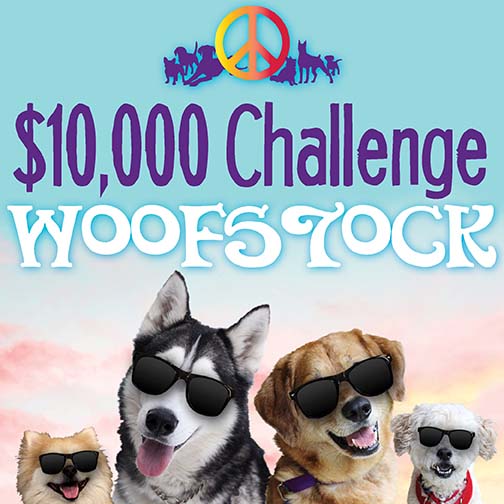 Berkshire Humane Society has received a generous offer from an anonymous donor, one that encourages the dog-loving community to participate in Woofstock, the shelter's annual 5K Race and Downtown Dog Walk. If 250 people register for a minimum donation of $25, the shelter will receive a $10,000 gift to help homeless pets with food, treats, medical care, and other daily necessities while they wait for adoption.
"We are thrilled by this offer," said John Perreault, Executive Director for Berkshire Humane Society. "We normally have around 150 participants each year – 250 is a big challenge, but we're confident that our community will show up and give to help our homeless animals."
The 5K Race and Dog Walk both kick off at The Common in Pittsfield on Sunday, September 8. The race begins at 10a.m. and will be timed by Berkshire Running Center. The dog walk, a leisurely stroll around downtown, begins at 11a.m. and will be led by this year's Grand Marshall, a sweet, one-year-old shelter dog named Lucy.
After the run and walk, participants and supporters are invited to enjoy canine games, food trucks, music, and raffles.
All participants are encouraged to collect pledges to benefit homeless animals, and registration includes a free online crowdfunding tool. Berkshire Humane Society receives no state or federal funding and depends solely on the support of its community to care for shelter animals and to fund more than a dozen programs and services that benefit people and pets.
Day-of registration begins at 9a.m., but online registration at https://berkshirehumane.org/ is strongly encouraged.
This year's Title Sponsors are Benson's Pet Center and Pittsfield Cooperative Bank. Other sponsors include: A-1 Security, Berkshire Eagle, Greylock Federal Credit Union, Allen Heights Veterinary Hospital, Onyx Specialty Papers, Pittsfield Veterinary Hospital, and West Oil Company.
To register and learn more, visit BerkshireHumane.org or call (413) 477-7878, ext. 131.