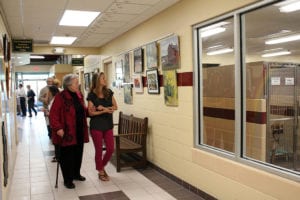 NEW BERKSHIRE HUMANE SOCIETY ART GALLERY CELEBRATING LOCAL ARTISTS ON BEHALF OF ANIMALS
PITTSFIELD, April 20, 2017 – On Friday, April 28, Berkshire Humane Society (BHS) celebrates the official opening of its new Berkshire Humane Society Art Gallery, underwritten by the Appelbaum-Kahn Foundation. The gallery is presented in collaboration with and curated by the Richmond-West Stockbridge Artist's Guild.
From 5:30 p.m. to 8:00 p.m., the public is invited to peruse the art – featuring animals, nature, wildlife and landscapes – while enjoying light refreshments. At 6:00 p.m., Karen Carmean, Guild President, and Keith Emerling, artist, shelter volunteer and member of the Guild, will host a ribbon-cutting ceremony.
Two pieces of art will be raffled. A wildlife photograph of Arabian horses by Mitch Greenwald will be available by purchasing raffle tickets at the door; a wildlife photograph of herons by Sheli Ronnen will be given away as a door prize.
The exhibit, which lines nearly 120 linear feet of wall space around the shelter, is open during normal shelter hours. The Guild will curate the space with shows changing every three months. Art is for sale with a portion of the receipts going to BHS.
Noting that the shelter has plenty of empty wall space, BHS Executive Director John Perreault said, "For a long time we've wanted to fill the space with art, but it wasn't something we could do by ourselves."
The collaboration resulted from several meetings involving BHS, Kim Gerber of Animal Life magazine, Emerling, and Carmean. Together they developed a plan to hang the art and create a changing visual environment in the shelter.
The hanging system used in the gallery was researched and selected by Guild member Anne Auberjonois; it was installed by Rudi Bach of Moving Art Co. The installation was funded with a grant from the Appelbaum-Kahn Foundation.
ABOUT THE BERKSHIRE HUMANE SOCIETY
The Berkshire Humane Society (berkshirehumane.org) is a private, nonprofit, open-admission animal support organization with a twofold mission: to ensure the compassionate care, treatment, and whenever possible, placement of homeless animals through the shelter operation; and to promote and improve the welfare of all animals through community education and outreach.
ABOUT THE RICHMOND-WEST STOCKBRIDGE ARTISTS' GUILD
Founded in 2015, the Richmond-West Stockbridge Artists' Guild (www.rwsag.org) is a group of vibrant, inspired visual artists who lead seminars, workshops, critiques, Plein Air, life and still-life painting, exhibits, Art 'Round Town, studio tours, demonstrations and other educational activities. We are organized exclusively for educational and charitable purposes as a 501 (c )3 non-profit. We are part- or full-time residents or business owners working is a wide range of visual media and live in the Richmond/West Stockbridge area, which includes much of Berkshire county and adjacent New York.
###