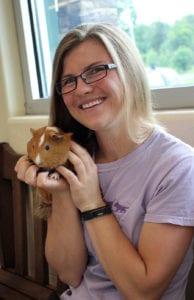 My first pet was a small animal. I adopted Spider Pig, a 6-month-old guinea pig. He too was a surrender due to college kids getting him and not wanting to keep him after school was out. I'd never had a "real" pet growing up. Spid was my first pet and my first true love at the age of 19. Even though I was older, he taught me so much about taking care of an animal and how much responsibility it truly is.
That's what I want to teach families when they come in looking for small animals to join their household – or to at least  have the chance to open their eyes to how amazing little creatures are. I want to show them how smart they are and how loving they can be. There is so much joy having that responsibility and taking care of another life, and when you're young, growing up with that animal.
I'm just very passionate about these small animals, and I was very excited when I was promoted to overseeing the small animal room at BHS. These little guys have taught me so much – they communicate with each other and with people, and they each have personalities and likes and dislikes. It's so rewarding to share this with people when they visit the shelter. And it's not just kids. I get a lot of families – with and without children – wanting to adopt. There are many adults who love small animals and want to add one to their little four-legged family!