From our February 9, 2018 E-Tales Newsletter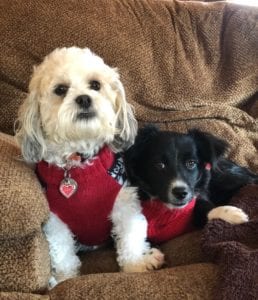 Mario, who is now known as Max, became quite the local celebrity this past January. After escaping from the shelter while outside on a walk, he spent two harrowing days traversing the local neighborhoods. Mario was spotted running into the swamp on Barker Rd., darting across people's lawns, and even at the edge of the shelter's property. Thankfully he's safe and warm and living the good life with his new family!
On January 31, Max went home with the Snyder family. In addition to a loving mom and dad, he got a brother too! Max and Luna hit it off immediately, romping and playing during their meet and greet. Shelter staff were thrilled to see the chemistry between the two pups blossom, and their bond has continued to grow at home.
Mr. Snyder recently sent a warm update with lots of pictures to prove just how happy Max's happy ending truly is.
"Max is doing great," he said. "We are very happy to have him."
And we are very happy for Max! Searching for a lost puppy was a new experience for us at Berkshire Humane Society, one we hope is never repeated. Thankfully this story had a very happy ending.