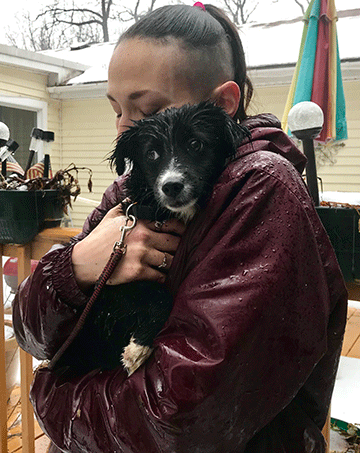 Shelter work is never easy. This past week was particularly difficult for the dedicated staff at 214 Barker Rd. in Pittsfield. Late Sunday afternoon, less than a week ago, a puppy escaped from the property, slipping free from the people hoping to adopt him. Understandably panicked, they chased the puppy, which bolted down Barker Rd. and disappeared into the nearby neighborhoods near South Mountain Rd. An intense search began immediately.
Pets go missing every single day. Berkshire Humane Society (BHS) receives frequent notices about escaped cats and missing dogs. Thankfully, many of these sad circumstances end happily, with the family pet returning on its own or getting picked up by local animal control or a good citizen. However, there are also many pets that are never found.
Luckily, BHS's missing puppy – a small spaniel mix named Mario – was found two days later after several long, exhaustive searches, multiple consults with animal trackers, and the setting of traps and feeding stations. Thanks to multiple sightings by both staff and neighbors, the dog was found beneath the deck of a house behind the shelter. Our shelter manager's Pomeranians helped locate the puppy. A group of staff members carefully blocked all escape routes while others stretched out on the cold, muddy ground to lure the puppy with turkey and cheese. Soaked, shivering, and covered with mud and forest debris, the puppy was pulled into a staff member's arms. He was still wearing his leash, the one that slipped free from his people's grip.
It can happen in an instant.
Staff at Berkshire Humane Society learned firsthand that the approach to a search is dependent on the dog. In Mario's case – a young, fearful puppy who hasn't been fully socialized or trained – a great deal of care was required to not accidentally scare him further into harm's way. Some social dogs may approach people or other dogs, but others will run and hide. Their behavior can be unpredictable during this scary experience. Here are the tips we suggest when people contact us about a missing pet:
Alert Animal Control & Visit Your Municipal Animal Shelter & Local Veterinarians
First, call your local animal control and municipal animal shelter. These are the first stops for many lost pets. Found and stray dogs are required by law to be taken to the municipal shelter. Call local veterinarians too. If a found animal is injured, someone might bring it to a vet hospital. This is the best place to start.
Alert All Other Shelters & Keep Calling
Second, call all other local animal shelters. Berkshire Humane Society has a missing pets book to register all missing pet reports. Reports are kept active for 2 weeks, so owners are encouraged to call again if their pet is still missing in 2 weeks. Keep calling until your pet is found.
Flyer The Area
Third, create a flyer with your pet's picture. Post this flyer in the area where your pet was last seen, as well as animal shelters and vet offices. This can be enormously helpful as people in that area may spot your pet and provide information about its movements, or they many know if a kind person took it in. You might also place food and a blanket with your dog's scent in the area where it went missing. Some dogs can find their way back to familiar scents.
Post & Share On Social Media
Fourth, post your flyer and pictures on social media. In the Berkshires, there are a number of pages and groups to consider. In addition to Berkshire Humane Society's page, you can post to Missing Pets of Berkshire County, Berkshire County Pets, and Pittsfield Lost Pets. There are many options – do a search and see what you can find. The more you share, the better! In addition to social media, consider placing an ad in the local paper. Some offer free or very inexpensive listings.
Consider an Animal Tracker
Fifth, if you want, you can consider hiring an animal tracker. This may be helpful if you live in a rural area, or if your dog escaped into woodlands or swamps – as Mario did. One thing the shelter staff learned is to not send large groups of people searching together, which might have scared him into coyote territory. The suggested action was to set up feeding stations and traps. Tired, hungry dogs that are not accustomed to scavenging will be drawn to food.
Please, Microchip Your Pet
Lastly, when you find your pet, please get them microchipped by a local shelter or vet. Hopefully your pet is wearing a collar with an information tag, but if it slips the collar, the microchip is your next best bet in finding your pet. Animal control officers and shelters scan every animal brought through their doors. If the animal is registered to someone, they call the owner right away. Microchipping is the most efficient way to be reunited with a lost pet that was lucky enough to be found. This is also a good reminder to keep your contact information updated with the company that manages your pet's chip!
The best time to chip your pet is before they are lost, so if they haven't been chipped already, please consider this life-saving measure. It's affordable and easy.
We are so thankful that Mario is safely inside our shelter again. He's sure to go to a good home, and with patience and training, he has an excellent chance of learning to trust people and to stay by his family's side.
Once again, we send a heartfelt thank you to our neighbors and community for their help in finding our lost puppy. We think Mario is pretty thankful too!