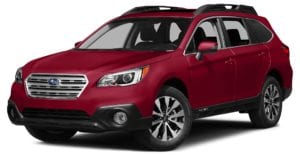 2018 SUBARU OUTBACK RAFFLE: 5th Annual Raffle to Benefit BHS
PITTSFIELD, May 4, 2017 – Berkshire Humane Society is proud to announce its 5th annual Subaru Car Raffle. This year, a 2018 Subaru Outback (package value approximated over $34,000) can be won by purchasing a ticket by October 28, 2017. Buy 1 ticket for $40 or 3 for $100. The winner will be drawn on October 28th and does not need to be present to win. The raffle is limited to 2,100 tickets; if a minimum of 1,000 tickets are not sold, the raffle will convert to a 50/50 drawing of the net proceeds. Purchase tickets at BHS (Pittsfield), Haddad Subaru (Pittsfield), Bartlett's Orchard (Pittsfield), Purradise (Gt. Barrington), Catwalk Boutique (Gt. Barrington), Chez Pet (Lenox), and Bark n' Cat (North Adams).
"We are excited to continue this partnership with Haddad Subaru. Haddad has been extremely supportive of our work. They sponsor a dog each week, and early last month, they awarded BHS with a check from their Subaru Share the Love Program. The raffle is a great opportunity for someone in the community to win a car that's perfect for the Berkshires, and to support the animals of Berkshire County. It's a win-win!" said John Perreault, Executive Director of Berkshire Humane Society.
Proceeds benefit BHS. For more information, call +1 (413) 447-7878, ext. 131.
---
CHSS: FINDING SHELTER WITH JESSE FREIDIN
Award-winning photographer to give animal photography demo
On Saturday, May 20, 2017 from 2:00 to 4:00 p.m., BHS will host the next Coffee Hour Speaking Series: Finding Shelter with Jesse Freidin. This award-winning photographer will visit BHS to talk about photographing shelter animals and give a brief animal photography demonstration. It's the perfect opportunity for photography enthusiasts! Jesse will also share his new book, Finding Shelter, a portrait project about shelter volunteers and the animals they care for. Refreshments will be served and books that are purchased in advance can be signed.
Proceeds benefit BHS. For more information, call +1 (413) 447-7878, ext. 145.
---
DANCE!!! FOR DOGS & CATS
License to Groove hosts an all-night dance party to benefit BHS
Local retro dance band License to Groove presents the 3rd annual Dance!!! For Dogs and Cats to benefit BHS. This all-night dance party will take place on Saturday, June 3, 2017 at 8:00 p.m. at Berkshire Hills Country Club, 500 Benedict Road in Pittsfield, MA.
License to Groove will play '70s and '80s dance music while sharing the stage with an incredible lineup of Berkshire musicians from the following bands: Beth Maturevich (5 GUN DRAW), Joe Ciliberti and Rick Bush (HAIR BALLZ), Pat Shepardson (SHEPARDS CROSSING), Gary Burchard (F BOMB), Brian Benlien (Solo Acoustic and MR. BONE), Bob Bottume (CIRCLE OF STONE), Paul Delasco (TIME MACHINE), and Dona Frank-Federico (THE SPURS USA).
Tickets are only $10 and can be purchased at BHS (214 Barker Road, Pittsfield) and Bark-N-Cat Pet Supplies and Gifts (28 Holden Street, North Adams), or by calling +1 (413) 652-1554. Remaining tickets will be available at the door.
All proceeds directly benefit BHS thanks to the generous donations of our sponsors Zogics, Bark-N-Cat Pet Supplies, In Touch Printing, Live 95.9, and WUPE FM.
For further information, contact BHS or visit www.licensetogroove.com.
---
PAWS READ-A-THON RAISED OVER $8,000
Six Berkshire Elementary Schools participated in the 2nd annual read-a-thon
Berkshire Humane Society's 2nd annual PAWS Read-A-Thon was a great success, raising over $8,000 to support BHS shelter animals. Designed to encourage reading while showing children that they too can make a difference, the event challenged elementary students to read for as many minutes as they could during the month of March, the national month of reading. Minutes could be sponsored by family and friends with monetary donations. Participating schools included Allendale Elementary, Lanesborough Elementary, Richmond Consolidated, Williams Elementary, Stearns, and Lee Elementary. Top readers: Will Kellogg (Lanesboro Elementary, Pre-K); Kayley Krzynowek (Allendale, Kindergarten); Meghan Toomey (Stearns, 1st grade); Aurora Lenehan (Richmond, 2nd grade), Elyse Thomson (Lee Elementary, 3rd grade); Joyce Makdisi (Williams, 4th grade); Addison DiGrigoli (Williams, 5th grade); Lily Jayko (Lanesboro Elementary, 6th grade); Nyla Mielke (Richmond, 8th grade). Students were rewarded with goodie bags delivered by BHS Humane Educator, Lizzy Brown, who administrated the event with community volunteer Alli Rotenberg.
For more information, contact Alli Rotenberg at allirotenberg@gmail.com.
ABOUT THE BERKSHIRE HUMANE SOCIETY
The Berkshire Humane Society (berkshirehumane.org) is a private, nonprofit, open-admission animal support organization with a twofold mission: to ensure the compassionate care, treatment, and whenever possible, placement of homeless animals through the shelter operation; and to promote and improve the welfare of all animals through community education and outreach.
###