"I got the call and knew we had to help," said Berkshire Humane Society's Executive Director John Perreault. Last month, Nancy from Plainfield, Massachusetts, had become overwhelmed with her dog-breeding operation and needed help to find homes for her beloved animals.
Nancy started her business with the best of intentions. She noticed it was hard to find little dogs in her area so she got 17 dogs to breed — mostly chihuahuas, Yorkshire terriers and Boston terriers. "When I go, I go big," she said about the size of her operation. "I wanted other people to have nice little dogs."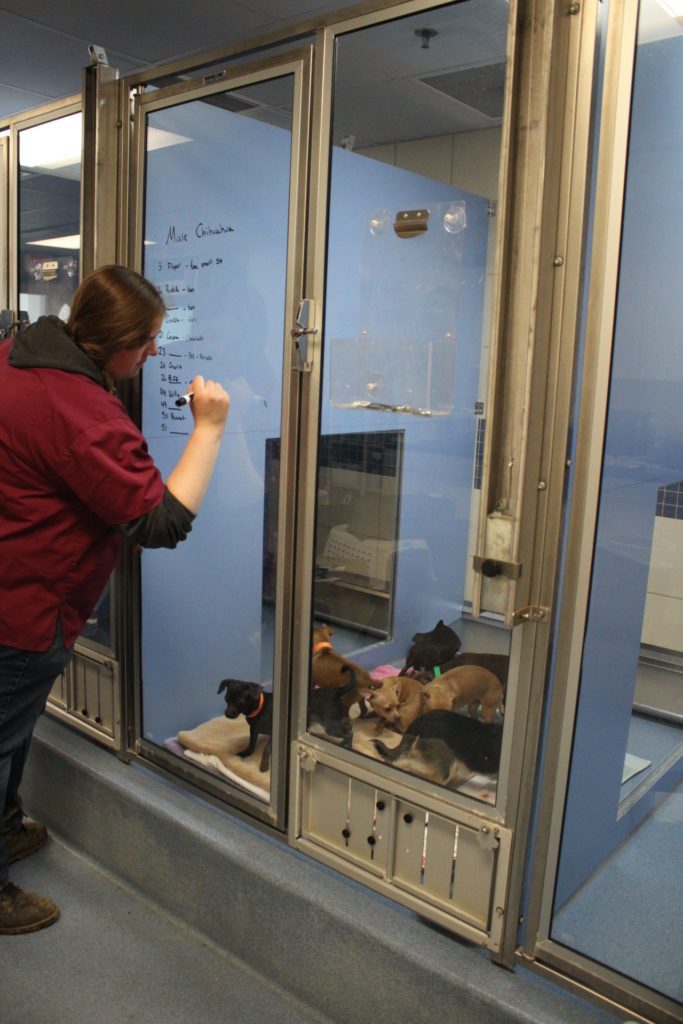 But the dogs multiplied faster than she could find homes for them, their numbers ballooning to around 80. In November she tried to scale back by offering the dogs for adoption on her Facebook page, "Please share my PUPPY posts and info with friends. I need to downsize and need homes for them. They are Happy, Healthy, Playful, Friendly, Cute, Fun, Lap dogs. They will bring you years of Joy and Smiles."
She found homes for some of her dogs, giving some away to people who agreed to keep them current on vaccinations and spay and neuter them. But the response was not enough. Nancy's situation had gotten so much out of control that the care of the dogs and her farm animals consumed all of her time, energy and money, "I loved them all. I wasn't hoarding them. I ran out of resources and couldn't keep up with them multiplying. My health and house got pushed aside for them," she said.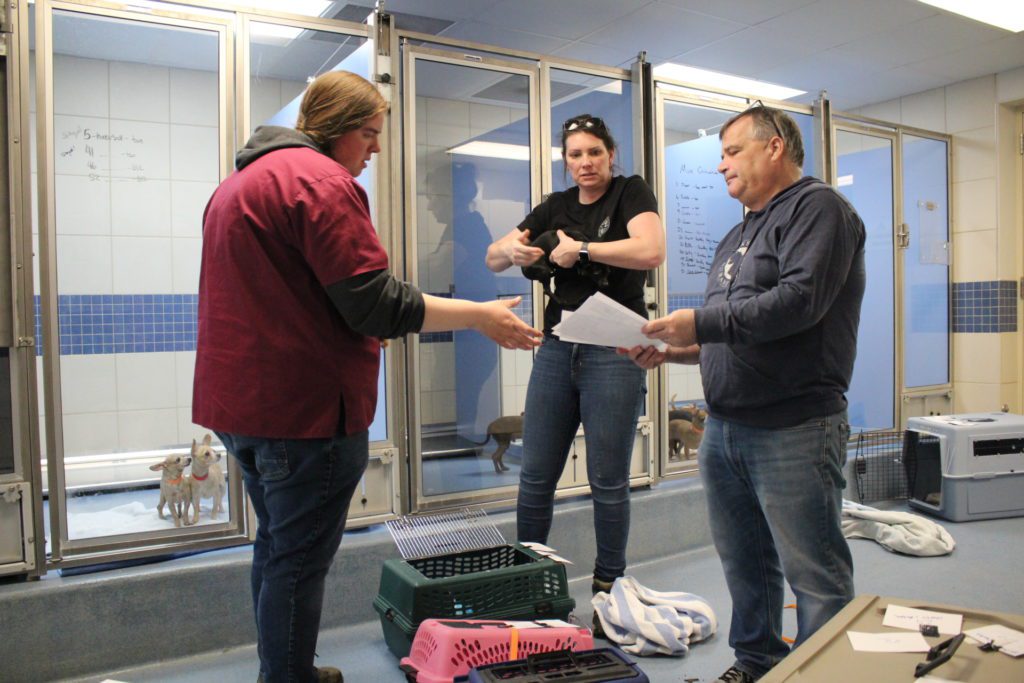 "I need to do something," Nancy told herself. She reached out to Dakin Animal Shelter, who notified state law authorities. Plainfield is a tiny town in the hill country of Western Massachusetts, mostly occupied by senior citizens like Nancy. The closest animal welfare organizations are Franklin County Sheriff's Office and Berkshire Humane Society, so the Massachusetts Department of Agricultural Resources contacted both to see if they, along with Dakin, could take some of the dogs.
"Of course, we said yes," said John.
In a coordinated effort on a day in late March, a contingent from Berkshire Humane Society joined the other shelters, the Plainfield Police Department and the Massachusetts Department of Agricultural Resources in removing the dogs from Nancy's house. About 40 people rounded up 76 healthy canines, including pregnant and nursing females, put them in carriers, identified them with the help of Nancy, photographed them and divided them between the three shelters to rehome.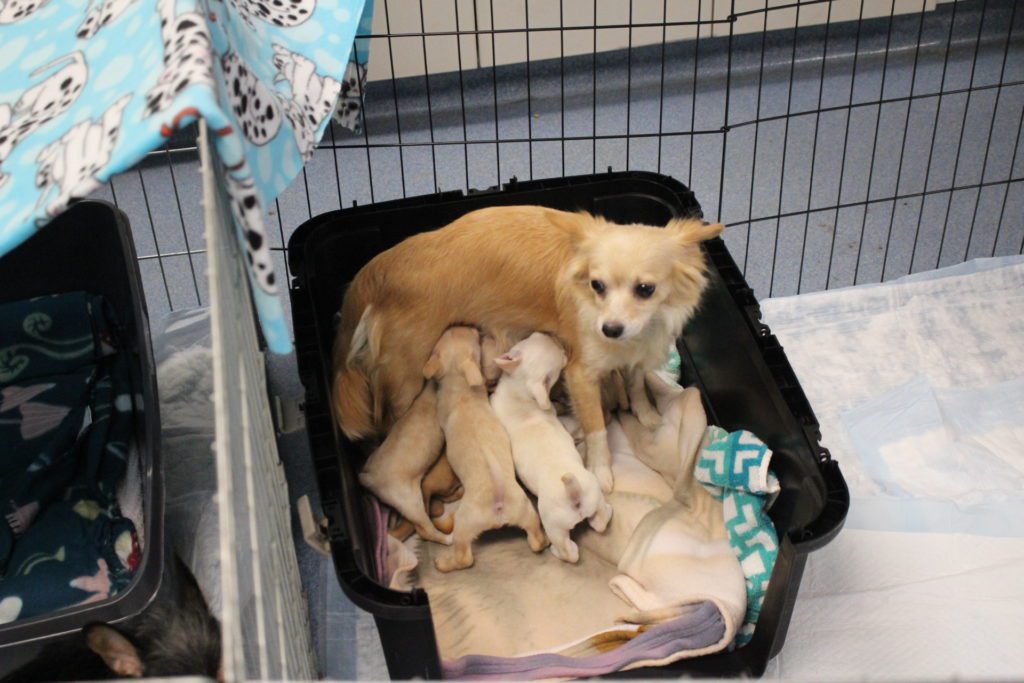 Berkshire Humane Society took in 26 dogs, which became 30 when a female gave birth to four puppies a couple of days after arriving. Upon intake, we vaccinated and microchipped the dogs and later spayed and neutered them. We returned four "fixed" dogs to Nancy to keep as part of an agreement with the State. "They give me comfort," she said.
To date, most dogs at Berkshire Humane Society have been spoken for. "I'm glad all the dogs and puppies found good, loving homes," said Nancy. "I didn't have enough time to spend with that many dogs. Now they can get more attention than I could give them. I miss them, but it's really nice to know the puppies are going to be taken care of."
Nancy views her experience as an opportunity to get her health and home back in order, acknowledging that she can volunteer for an animal welfare organization instead of running a breeding operation. She's grateful for all the people who helped that day in March. "I didn't get everybody's number," she lamented, "but I'd like to thank everybody. Everyone was so nice and compassionate to me and nice to the dogs."
"This is why we're here," said John Perreault. "To help not only animals but the people who love them. It's all about community — people pulling together for the common good. We're glad to have helped turn a desperate situation into a new beginning for both Nancy, her dogs and the adoptive families who have a new furry member to love."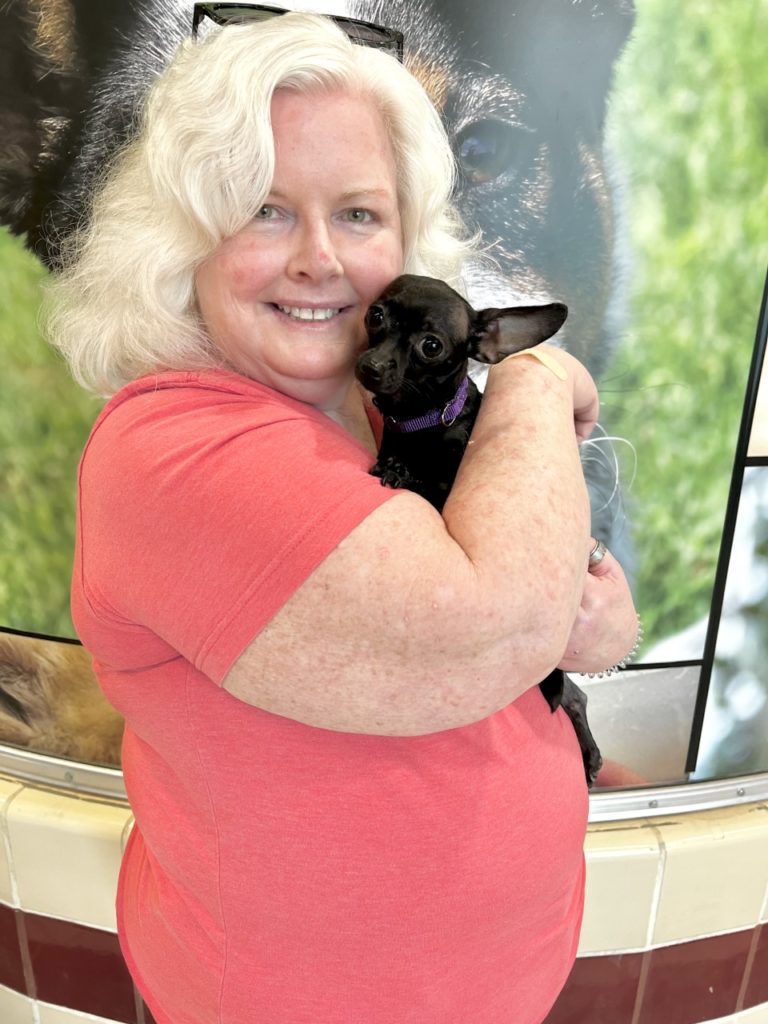 Nancy views her experience as an opportunity to get her health and home back in order, acknowledging that she can volunteer for an animal welfare organization instead of running a breeding operation. She's grateful for all the people who helped that day in March. "I didn't get everybody's number," she lamented, "but I'd like to thank everybody. Everyone was so nice and compassionate to me and nice to the dogs."
"This is why we're here," said John Perreault. "To help not only animals but the people who love them. It's all about community — people pulling together for the common good. We're glad to have helped turn a desperate situation into a new beginning for both Nancy, her dogs and the adoptive families who have a new furry member to love."