March 1-31: Donated Furs will be Returned to Berkshire Wildlife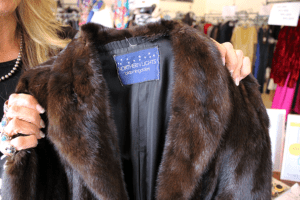 This March, Berkshire Humane Society (BHS) will launch its first ever Fur Reclamation Drive to collect fur garments to be dismantled and distributed to wildlife rehabilitators in the Berkshires and surrounding areas. This project is spearheaded by Lizzy Brown, BHS's Humane Educator, and Pam Youngquist, PhD, animal welfare advocate volunteer.
"I'm excited about this new endeavor," said Lizzy. "Not only is it an opportunity to put furs to good use, many of which may be in storage or no longer worn, it's a chance to educate children about local wildlife, and about how we can share our world with them and care for them when they need help."
Many of the injured and orphaned wildlife nursed back to health by rehabilitators were endangered by human encroachment on their natural habitat. The death of animal parents, or even kidnapping by well-meaning hikers and people spending time outdoors, are other reasons fawns, fox cubs, raccoon kits, and other babies find their way into the hands of rehabilitators.
"Many babies are left alone during the day while their mother feeds herself or hunts. People will find a baby dear hiding in the brush and think it's been orphaned, when most of the time mom will come back in a few hours. Once a baby is brought into human care, it can't easily be returned. And there are also a lot of animals that take up residence in human structures. Mom is trapped or killed, and then the babies are discovered. Rehabilitators can have dozens and dozens of infants in their care during the spring. It's a lot of work…and it's a lot of laundry!" said Lizzy.
So far, BHS plans to work with 3 local rehabilitators: Dawn Collins, Judy Pasko, and Julie Shannahan. They, along with others, will use the fur pieces to line beds and handmade nests. They will swaddle infants during bottle feeding, and some rehabilitators use specific parts, like fur sleeves, as hot water bottle holders to keep babies warm.
Another use is education. Judy plans to use the furs in her annual Wildlife Rehabilitation Seminars where she instructs beginning rehabilitators. The furs will provide useful, hands-on experience.
"The donated furs ensure very little human imprint to occur so that these wild animals can be returned to their homes in nature once healed," said Pam. "There is no greater joy than supporting those who cannot defend or speak for themselves, that being the animals on our planet. For all who are willing to open their closets and make the choice to have compassion be their fashion, your courage and generosity count beyond measure."
The drive welcomes all fur coats, gloves, stoles, and other fur items or partial fur items. No mothball affected or recently dry-cleaned furs can be accepted due to chemical usage.
If donors wish to claim a deduction for their donation, we encourage them to consult IRS.gov and their tax specialist. Donated items should be appraised prior to drop-off, and any required tax forms, such as Form 8283, MUST BE completed in advance and presented at the time of donation. For questions, call Lizzy Brown at (413) 447 -7878 ext. 129 or email ebrown@berkshirehumane.org.
From March 1st to March 31st, people wishing to donate their furs may drop them off at the following locations during normal business hours. For hours, please visit the organization online or call.
Berkshire Humane Society
214 Barker Rd., Pittsfield
BerkshireHumane.org, (413) 447-7878 ext. 129
Purradise
301 Stockbridge Rd., Great Barrington
(413) 717-4244
Catwalk Boutique
325 Stockbridge Rd., Great Barrington
CatwalkBoutique.org, (413) 717-4005
Bark N' Cat
28 Holden St., North Adams
(413) 664-7777
ABOUT THE BERKSHIRE HUMANE SOCIETY
The Berkshire Humane Society (berkshirehumane.org) is a private, nonprofit, open-admission animal support organization with a twofold mission: to ensure the compassionate care, treatment, and whenever possible, placement of homeless animals through the shelter operation; and to promote and improve the welfare of all animals through community education and outreach.
###