This story was originally shared in our Compassionate Caregiver e-blast that is sent to supporters who have signed up for monthly donations to Berkshire Humane Society. Our goal this year is 100 new members…we are just 18 shy of our goal! If you would like to receive special stories like this one, please consider signing up. The animals need your support each and every day. Learn more.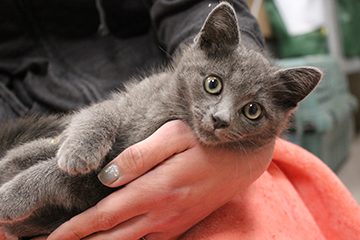 On a Friday afternoon, during her return to Boston, Hillary, an animal lover with family in the Berkshires, spotted a small, gray blur pressed against the base of the center Massachusetts Turnpike barrier. Traffic was heavy, and as she approached the blur, she saw two wide, yellow eyes of a frightened kitten.
"I was so relieved to see he was alive," she said. "I knew I had to do something."
Unable to stop and assist, she called 911 who connected her with the police department closest to her current location. She spoke with State Trooper Thomas Wilson who was working the desk that day. He agreed to help and alerted cruisers closest to the area.
"Hillary said it was around the 100-mile marker," said Trooper Wilson, "so I asked a couple of cruisers to take a look.They weren't able to locate the kitten. He's dark gray, and he blended in perfectly with the pavement. I was bummed they didn't spot him. When I got off work a couple of hours later, I kept my eyes peeled while I went by the 100-mile marker. I saw him shivering against the barrier, so I put on my lights and pulled over. He ran away, and I had to chase him down the center lane, but I was able to grab him and put him in my car."
Trooper Wilson borrowed a cat carrier from a neighbor and made arrangements to hand him over to Hillary, who had offered to get the kitten to a rescue organization.
Both Trooper Wilson and Hillary considered keeping the kitten, who was soon named "Wilson" after his rescuer.
"He's a survivor," said Trooper Wilson. "I wanted to keep him, but we have a newborn and a dog that's kinda crazy around cats, so it just wasn't practical."
Hillary, a parent of small children herself, also felt that keeping Wilson wasn't the right choice. So she called several different organizations about taking Wilson.
"I wanted to make sure he went to the right place, somewhere I could trust would take good care of him and get him into the best home. I'm really familiar with Berkshire Humane Society, and I've always been impressed with all the great work they do. So I decided that's where I wanted to bring Wilson."
Wilson arrived at Berkshire Humane Society on June 24 and quickly stole the staff's hearts with his easy-going and social disposition. Two weeks after his arrival, Wilson found his forever home with Dee, one of our most involved Compassionate Caregivers, and her husband Kevin.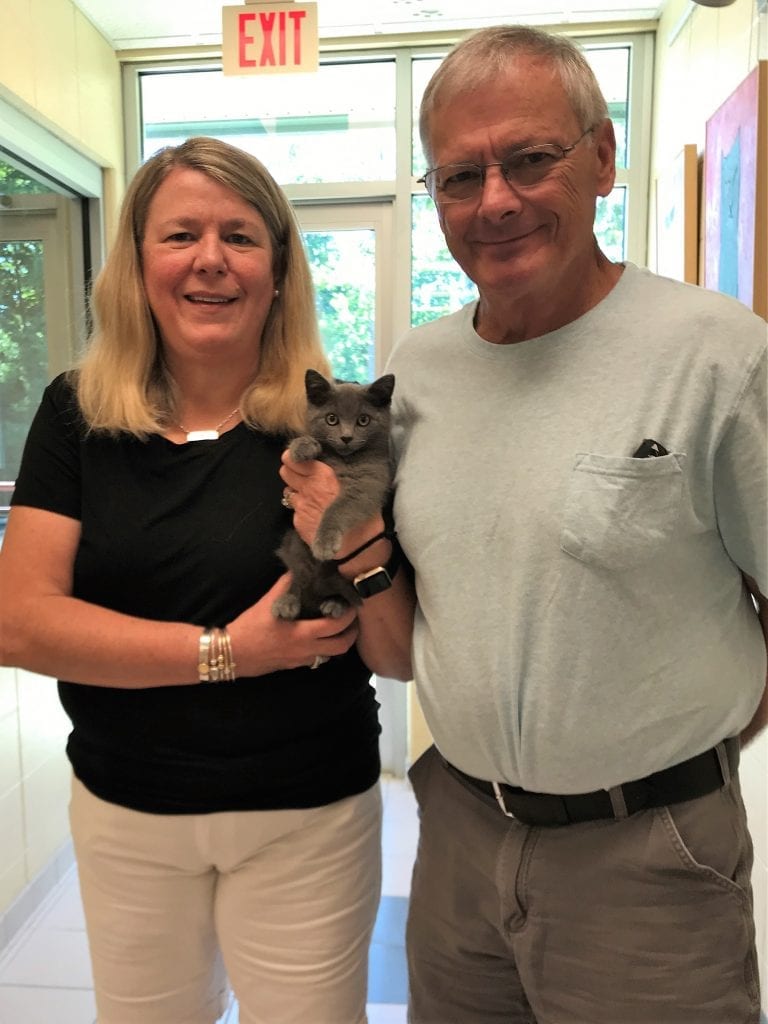 "I saw the picture of Wilson on BHS's website," said Dee, "and knew I had to meet him! I was waiting at the door the next morning, and I ran into John, the Executive Director. I said I'd like to meet Wilson. Instant connection! When I heard his story, my heart melted for the compassion and caring it took to rescue this sweet little one. We are looking forward to the adventures sure to come with our little Wilson, and we are so thankful he's now a part of our family."
"It's a miracle he survived," said Trooper Wilson. "That's a high-speed area. Cars go 65 to 100 miles an hour there. I don't know how he got there, but I was impressed he'd managed to survive. And I was invested since I took the initial call. Honestly, I'm a little disappointed Wilson found a home. My wife and I decided that if he wasn't adopted right away, we'd take him. The dog would get used to him!"
In addition to her dedication of time and effort in Wilson's future, Hillary decided to make a cash donation to Berkshire Humane Society.
"When I dropped Wilson off," said Hillary, "I made a donation. I wanted to help cover the cost of his medical exam and all the services he would need before being adopted out. I know that animal shelters rely on donations to run. And I am so glad he found a home. It just goes to show that local organizations, like Berkshire Humane Society, can really help transform the lives of animals and families."
It's people like Hillary, Trooper Wilson, and Dee that make all we do worthwhile. Cheers to them and to all the families who have opened their hearts to a furry loved one.
Love this story? Want to help more animals like Wilson?
Become a Compassionate Caregiver today!