Recipient of the Ken Freeburg Fund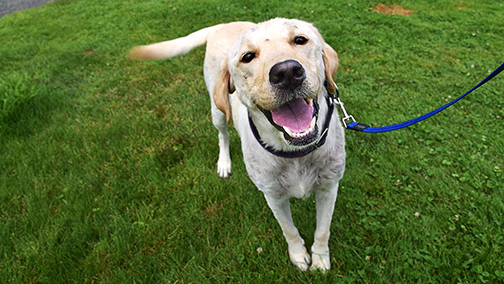 Lily, the 3-year-old yellow lab, was surrendered to BHS because of her severe allergies. Her family could no longer afford her medical care, and her condition had flared over the past six months. Severe itchiness lead to incessant scratching, which broke open the hairless, scabby hives all over her body, causing a skin infection. Despite her discomfort, Lily greeted everyone happily, her patchy body wiggling from side to side as different people roamed the hallways.
"She's a very sweet dog," said Roberta Townsend, canine services manager for BHS. "Her family switched her food, but…it still had something she's allergic to. She got better for a while, but then it flared up even worse. Our visiting vet put her on prednisone, and she's taking two antibiotics to knock out the infection."
When situations like this happen at the shelter, staff rely on the Ken Freeburg Fund and community donations to help offset the cost of extraordinary medical care. Because BHS is open-admission, animals with grave health concerns make their way through our doors on a regular basis. From allergies to IBS to infected teeth and gums, these conditions can cause animals to be unadoptable – unless they receive necessary medical attention. When our staff feels that extraordinary medical care might grant an animal a shot at regaining its health and finding a new home, they turn to the Ken Freeburg Fund and the community.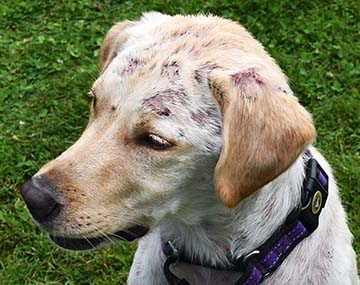 The Ken Freeburg Fund was started by BHS in 2005. Named after Ken Freeburg, a devoted and extremely generous volunteer, the fund helps cover extraordinary medical costs for animals that would otherwise be unadoptable. This fund is replenished by individual givers who donate specifically for medical care, and it is crucial to the survival of many cats and dogs.
"Ken was an invaluable volunteer," said John Perreault, executive director. "He went out of his way to identify animals that needed above-and-beyond care, and he often paid for that care out of his own pocket. When he passed in 2005, we wanted to do something to memorialize his legacy, so we started this fund in his name. Because of him, we have saved and rehomed countless animals."
Happily, Lily already has a family considering her for adoption, and staff is hopeful the match will work out. Bringing home a special needs animal has multiple considerations, from cost to possibly providing special care for the duration of the animal's life.
"Not everyone is in a position to take a special needs dog," said Roberta. "But sometimes a condition is curative, and in that case, it's much easier. Dentistry can be taken care of, and then adopters don't have to deal with that. Allergies are a little more challenging. It's hard to pinpoint what the animal is allergic to. Could be environment, could be food. There are tests, and we are looking into that for Lily."
In many ways, Lily is a lucky pup. She has made her way into good hands. She was loved before and will continued to be cared for and loved during her stay at BHS and when she finds her new forever home.
If you are interested in helping, please consider giving to the Ken Freeburg Fund. Just click "dedicate this donation," and for your tribute name, type "Ken Freeburg." You can also mail or drop off a note with your cash or check. From Lily and all of us, thank you for your support!