Becoming a Better Patient Flora & BunBun's SafePet Story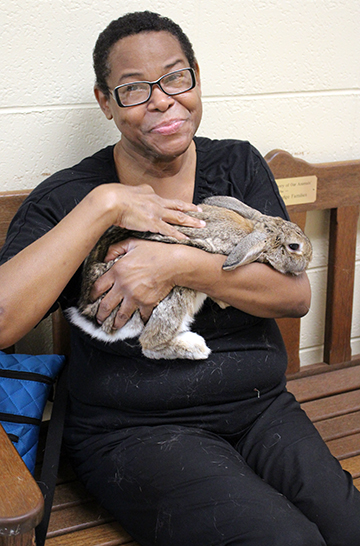 Berkshire Humane Society offers a number of programs and services designed to assist people, as well as animals. One of the most special is the SafePet Program, a service offering temporary, free pet care for people who are in crisis. Administered in tandem with the Elizabeth Freeman Center, the Red Cross, the Brien Center, and Berkshire Medical Center, BHS's SafePet Program cares for qualifying pets in the shelter's SafePet Room. Arrangements are entirely confidential. In 2017, the SafePet Program served 46 clients, which equaled 2,143 days of animal care. More than 2,000 volunteer hours have been devoted to fostering SafePet animals.
After participating in the program, Flora agreed to share her experience.
What circumstances led you to enter SafePet?
I had some health complications that caused me to stay in the hospital, and I had no one to watch BunBun, my rabbit. I was very, very concerned. A staff member at the hospital told me about a brochure in the patient handbook, and that I should read it and call the animal shelter.
I thought "oh my god, this is wonderful." When I was in the Boston area, at Beth Israel, there was nothing like this program. To come across something like SafePet, I thought it was phenomenal. I still think that.
When I called Terry Cormier, and explained my situation, she arranged for someone to go to my home and pick up BunBun. I told the rental office someone was coming to get her, and they opened up my door. All of that happened while I was at the hospital. Fantabulous!
Did you have any reservations?
Of course. I have never been separated from BunBun. She knows only me and our home. That's her world. And there I was, away from her. It was traumatic for me. I'm pretty sure it was traumatic for her. In her eyes, she was getting kidnapped from her home and taken to this strange place, and I was very, very concerned about it. I probably wore Terry's ear out calling her so many times and crying, wondering if BunBun was ok. Terry had to reassure me that she was in good hands and not to worry. I would still call because I was a mother separated from her child, and it was heart-rending for me.
So, yes. I did have reservations. I know it's a program in a brochure, but, you know, I felt uncomfortable. But it was the only choice I had, so I had to go with it.
After I got out of the hospital, and I was able to pick her up, she was fine. All that worry for nothing. She was fine! Fatter and plumper too!
How long was BunBun in the program?
Twice, for a about a month each time.
Can you talk about the impact SafePet has had on your life?
I have diabetes. One of the things that occurs is that stress raises your glucose levels because your body is not functioning properly. Having BunBun—oh, my dear little heart!t—in such good care allowed me to focus, really focus on my health. I was able to get my body regulated, and not have to worry about her care or safety. My numbers were able to get much better during my time away from her because of that undivided focus.
I have become a better patient because of the SafePet Program. I am very thankful for that, more than anything else. The SafePet Program has done so much for me, by just allowing me to have a safe place for her while I access medical care.
I have a foot-surgery coming up, so I'll be recovering for a year and a half. But once I get back on my feet, I would like to give money or volunteer–do whatever I can to help. That would be my heart's delight.
What would you say to someone who may be thinking of entering the program?
Go for it! Don't hesitate! Trust me, I know. My rabbit was content during her stay. And you cannot get better help than that. All the animals coming through BHS's doors are seen to properly. They are happy and healthy. What more can you ask for? (Besides them being with their pet parent.) You have to do it. That's what I would say.
I think more people should know about this program, more people should invest in it. It is under-acknowledged, that's what I think. People need and want to know that it's out there. This service is available to them.
This story was originally published in our Fall/Winter 2018 Newsletter.