Our annual 5K Run & Downtown Dog Walk
Woofstock is Berkshire Humane Society's annual fundraiser celebrating people and their pups! This year, on Sunday, September 8th, supporters are invited to run or walk to help raise funds for shelter animals. Woofstock includes family-friendly activities, food trucks, music, raffles, and canine games. Everyone is encouraged to collect pledges to help support homeless animals and the mission of Berkshire Humane Society. Fundraising perks & assistance are available. Dogs are welcome!
Woofstock 2019 5K & Dog Walk
Sunday, September 8, 2019
The Common on First Street, Pittsfield, MA
Special thanks to our 2019 Title Sponsor Pittsfield Cooperative Bank and Benson's Pet Center.
Follow this event on Facebook.
Visit the official event page to register.
---
About Woofstock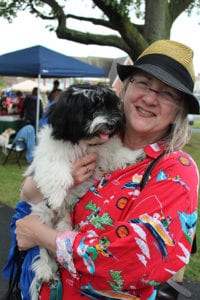 Woofstock is one of the major fundraisers that helps Berkshire Humane Society meet the growing needs of our community, for both animals and people. BHS depends solely on the generosity of individuals, and our work is entirely funded by residents and local sponsors. Events such as Woofstock are our lifeblood.
After registration, runners (and their dogs) take off for the 5K that is timed by Berkshire Running Center. Then walking participants and their dogs gather to take a short, scenic walk around downtown Pittsfield led by the Grand Marshall.
The Grand Marshal is an adoption alumni chosen by the shelter each year; this dog leads the pack, along with their owner or family.

All money raised supports the animals and their care. Thank you for joining us at Woofstock and supporting the work and mission of Berkshire Humane Society!