UPDATE: We have sold out of vouchers for this program.
Dog owners who are Berkshire residents and are in financial need can have their dog spayed or neutered for $25 through Berkshire County's Be Hip & SNIP Your Dog. This program, funded with a grant from the Massachusetts Animal Coalition's License Plate Program, is available for 75 dogs and puppies three months and older.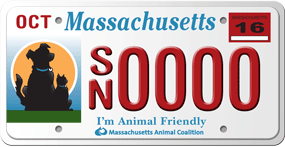 The program is available on a first-come, first-served basis. Participants buy a $25 voucher at Berkshire Humane Society's main shelter at 214 Barker Road in Pittsfield and then schedule the surgery with an approved veterinarian this year by May 31. The voucher must be submitted to the veterinarian the day of surgery.
Veterinarians taking part in Be Hip & SNIP Your Dog are Allen Heights Veterinary Hospital, Greylock Animal Hospital, North County Veterinary Hospital, Pittsfield Veterinary Hospital, South Street Veterinary Services and Valley Veterinary Services. More clinics may be announced later.
Be Hip & SNIP Your Dog is possible though a $22,000 grant Berkshire Humane Society received from Massachusetts Animal Coalition to continue providing low-cost spay/neuter services for cats and dogs in Berkshire County.
"We're honored to have received this grant for the 7th year," said Cheryl Truskowski, shelter manager for Berkshire Humane Society. "Without it we would not be able to provide this incredibly valuable service for people and animals. We want to make sure dogs are healthy and happy, and do not contribute to pet overpopulation. Spaying and neutering has many benefits – it helps reduce cancers and behavior problems."
The grant also made possible Berkshire Humane Society's successful "100 Cats for Christmas" program in December and supported Animal DREAMS for their feral and community cat spay/neuter efforts.
The Massachusetts Animal Coalition is a statewide, non-profit organization comprised of animal professionals and individual volunteers dedicated to decreasing the number of homeless, neglected, displaced and abused animals in Massachusetts. Through its annual "I'm Animal Friendly" License Plate Program, the coalition disburses funds to humane organizations and municipal animal control agencies in the commonwealth to provide low-cost spay/neuter services. To help this program, Berkshire Humane Society encourages you to buy an "I'm Animal Friendly" license plate. The tax-deductible plates are available at local registries of motor vehicles or at www.petplate.org.
For more information, call the shelter at (413) 447-7878, ext. 125.