Six Kittens Find a Home
Berkshire Humane Society (BHS) regularly cares for animals with special medical needs. This past summer, a kind man named Robert brought a box of feline leukemia-positive kittens to the shelter. Our long-term kitten expert, Dottie, took the little ones into her care for many long months, bottle-feeding and nursing all six infants into healthy, robust kittens.
Feline Leukemia is a virus that impairs the immune system. It is highly contagious, transferred through saliva and nasal secretions. While many cats with this diagnosis only live 4-6 years, some cats are able to resist infection or even eliminate the virus on their own. Some do live longer lives. As the kittens grew, the shelter staff periodically tested for the virus, hoping for a negative result. All six continued to test positive. Still, the kittens thrived.
Within a couple weeks of returning to the shelter, all six were adopted into loving homes. Three went home with Kristin and her family, and the other three went home with Tracy and her family. This is their story…
Robert, the man who found the kittens and brought them to Berkshire Humane Society
I was on my way to work at B&G Restaurant Supply. We have a big parking lot out back. I saw a kid pulling kittens out from under a dumpster. He was really upset.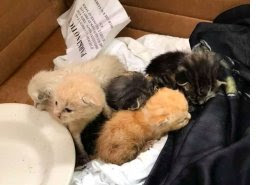 Two of the kittens were dead. The others he put in a box. He took off his sweatshirt and lined the box with it – and gave them to me. I went and got them some water. Every kitten was looking at me, screaming, like they were saying, 'please help me.' I knew I had to do something.
I went online and found Berkshire Humane Society. I saw that the shelter wasn't open yet, but I decided to go anyway and just wait in the parking lot. Thankfully, there was a young woman at the shelter who saw me pull in – Lindsay – and she immediately began to help the kittens.
She grabbed the box and started cleaning them up, talking to them. They were a mess. I felt so much better after that. I felt so comfortable when she took them – I could see how much she cared.
I am so happy they have all been adopted. My staff and I hope to bring a donation to BHS. We didn't know how things worked – you don't until something like this happens.
---
Kristin, the adopter who brought home Simon, Millie and Pearl
We love them! They are doing fantastically. I have three kids and a dog. The kittens have been great with the kids and they are fearless of the dog. Everyone is getting along so well.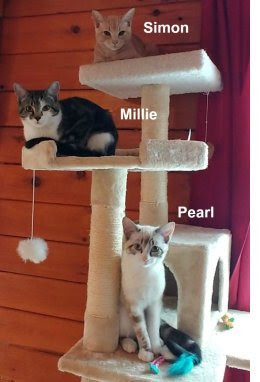 I've had cats in the past, and we've been thinking about adopting one. I saw the kittens in the feature room at the shelter one day, and they were so friendly. I thought, why not? At first, I said we'd adopt two of them. I thought two would be good because they would have each other.
We brought them home on a Thursday. By Sunday, my husband said, 'let's get another one!' They're all littermates, and I also thought we should get three so each kid can have a cat. It has worked out so well. I'd have taken all six if we had a bigger house!
There's something special about meeting an animal. When there is a spark – and you just know. These guys were those cats. It was the right moment.
They sleep with us. They have a giant cat tower. I have a huge window and they love to watch the birds. They are purring machines!
I talked to my oldest son, Matthew, about [their medical status]. Before the cats came home, we sat down, and I said, here is the deal with these cats. They could live 4-6 years or 10-12. My son was so sweet – he said, 'at least they won't have to live in a shelter. They will live with a family.' He's a very compassionate child. So we'll take that when it comes, if health issues arise. You never know. You could have a healthy animal only live 4-6 years, too. It made me want to give them a home even more.
I was at the shelter when the other family was there, looking at the remaining three. I told them they will not be disappointed. Just take them all. I think I helped influence that!
[Header pic: Kristin's children – John holding Simon, Mollie holding Pearl, Matthew holding Millie]
---
Tracy, the adopter who brought home Michael, Mitchell and Mallory
The kittens are amazing. We couldn't ask for better kittens. Originally I wanted a dog, but the consensus of the family was not yet, so we agreed on a cat. I went in and looked at the cats and the kittens. We were told that all three had tested positive for feline leukemia, but I thought it was really important that they stay together. So here we are, three kittens later, and we couldn't be happier!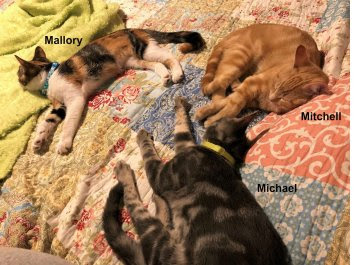 The [medical diagnosis] definitely weighed on us, but it goes back to keeping them together. I didn't think there would be too many people willing to take all three. And maybe it's naïve, but I kinda feel like they might live longer because they are all together. We never know how long any pet is going to be with us. It's no different with these three, other than potential medical issues down the road. We'll deal with that as it comes.
They are so playful and loving. Their purring keeps us awake at night. All you have to do is look at them and they start purring. We're never going to sleep! But if that's my biggest complaint, then I'm good.
If you ever consider adopting an animal with special needs, I say, do it. If you're questioning it, there is a piece of you that wants to do it. Just do it. Do it. Give them a chance.