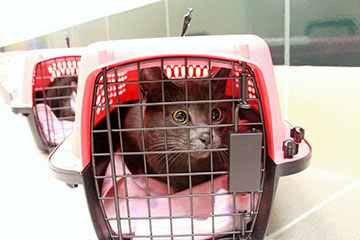 "This program means so much to me," said Shannon Truden. She was standing in the lobby of Berkshire Humane Society surrounded by dozens of cat carriers. It was 7a.m. on a frigid Wednesday in December, one of several days scheduled to accept cats into the 5th annual "100 Cats for Christmas" program. People were lined up, pets in tow, and plaintive feline cries filled the otherwise quiet hallways as the cats were organized into groups.
Shannon was one of 100 people signed up to have their cats spayed or neutered. "I have Baby B, which is Baby Butterscotch, and Peekee. They are 3 and 4," she said. "This means so much…with Christmas and everything, money is tight."
Funded through a grant from the Massachusetts Animal Coalition's (MAC) license plate program, the initiative allows BHS to coordinate the surgeries for 100 cats each year, with more than 500 cats fixed since the initiative began. "100 Cats…" is BHS's largest and most successful low-cost spay/neuter effort for kittens and cats in the Berkshires and surrounding area. Without the support of MAC's license plate program, this invaluable service would not be possible.
"It's a lot of work, but of course it's so worth all the effort," said Erin Starsja, Feline Services Manager for BHS. Erin has taped out sections on the shelter's lobby floor, each one labeled with a veterinary office. "For both people and their pets, this is a life-saving service. Fixing your pet betters their health and quality of life, and can help them live longer. Not everyone can afford this service. That's why this program was started."
Local veterinarians donate their services to the program, dividing the surgeries among 7 hospitals including Allen Heights Veterinary Hospital, Greylock Animal Hospital, North County Veterinary Hospital, Bilmar Veterinary Services, Pittsfield Veterinary Hospital, South St. Veterinary Services, and Valley Veterinary Services.
"We couldn't do this without their support," said Erin. "It's truly a remarkable team effort."
Offered each year during the month of December, the program is available on a first-come-first-served basis to qualifying residents of Berkshire County. Each registered participant pays a $25 fee, which helps cover the surgery and a rabies vaccination. Cats are dropped off early on scheduled mornings and driven to local vets by volunteers. They are returned to the shelter later that afternoon and picked up at the end of the day.
Berkshire Humane Society is committed to ending overpopulation and homelessness among animals in its community. "100 Cats for Christmas" is one step of many taken toward this goal. Thank you to MAC for all their support!
---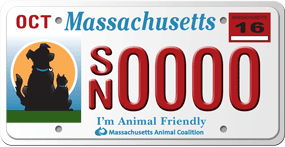 Learn More about MAC's License Plate Program!
The Massachusetts "I'm Animal Friendly" license plate tells your community that you care about animals! By purchasing this license plate, you will be contributing to a statewide program that directly benefits Massachusetts animals.