When:
May 5, 2019 @ 2:30 pm – 4:00 pm
2019-05-05T14:30:00-04:00
2019-05-05T16:00:00-04:00
Where:
Images Cinema
50 Spring Street
Williamstown
MA 01267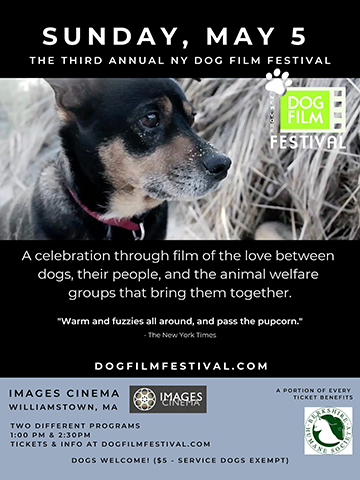 Organized by Tracie Hotchner, the New York Dog Film Festival celebrates through film the love between dogs, their people, and the animal welfare groups that bring them together.
This is a BYOD (Bring Your Own Dog) event. Dog tickets are $5, with the exception of service animals.
Stray dogs abroad, adventure dogs in sidecars, dogs winning prizes, dogs in prison, senior dogs, dogs who make you laugh, and dogs at Images. The NY Dog Film Festival is a philanthropic celebration of the love between dogs and their people, offering dog lovers a shared audience experience of canine-themed films from around the world that inspire, educate and entertain about the human-canine bond.
A portion of every ticket benefits Berkshire Humane Society!
Love Makes the World Go Round is one of two different dog-centric programs. The other is NY Dog Film Festival: Every Dog Has his Day.
Unexpected (2 min)— James Lee's delightful animated story with an unexpected ending.
I Rescue Senior Dogs (5 min) — Elizabeth Howe's biographical documentary about Sherri Franklin, the founder of Muttville Senior Dog Rescue, the rescue for senior dogs in San Francisco.
Elvis: The Lonely Hunter of Circle Beach (5 min) — Matt Hulse's hilarious story about a remote Long Island beach, where a tough little dog named Elvis searches for the elusive buried bagel.
You Don't Know Jack (3 min) — Tom Corwin's documentary about a beagle named Jack,who was rescued from a meat farm in South Korea and eventually found his way to a loving Bay Area home thanks to the Marin Humane Society.
Dog Power (25 min) — Kale Caey's dynamic documentary follows the glorious canine athletes who compete with their humans in international competitions for canicross, bike and scooterjoring, skijoring, and cart, sprint and middle distance dog sled racing.
About a Dog (16 min) Mollie Fitzgerald's charming story about an antisocial book editor, who unexpectedly and reluctantly has to foster a dog, an experience that brings her out of shell and introduces her to love.
Esther: Saving Castaways (6 min) — Andrew Wright's documentary chronicles a rehabilitation program for unwanted dogs being trained by prison inmates and how an unlikely union brings out a change in character for both.
Shit Happens (2 min) — Joan Caspi's comedic use of a mime to show what happens when you don't "Pick It Up."
Well Groomed (8 min) — Rebecca Stern takes us on a psychedelically-hued journey into the colorful and passionate world of competitive creative dog grooming.
Dame Mit Hund (1 min) — Sonja Rohleder's beautiful little work of animated art.
Ooh la la (1 min) — Erika Fischerkeller's witty animation explores the relationship between males, females and dogs. Inspired by the French Poodle.
A portion of every ticket benefits Berkshire Humane Society!
The annual NY Dog Film Festival will enhance our appreciation and understanding of the dogs who share our world, while benefiting local animal welfare groups and saluting those who work and volunteer on their behalf.
Please note: These films are free of physical or verbal abuse toward people or animals. The only tears you might shed would be tears of joy for happy endings. The programs are designed for adult audiences but can be enjoyed by all members of the family, including mature children.
More information can be found at dogfilmfestival.com.
Dogs are welcome. ($5 – service dogs exempt)