When:
May 4, 2019 @ 2:30 pm – 4:00 pm
2019-05-04T14:30:00-04:00
2019-05-04T16:00:00-04:00
Where:
Images Cinema
50 Spring Street
Williamstown
MA 01267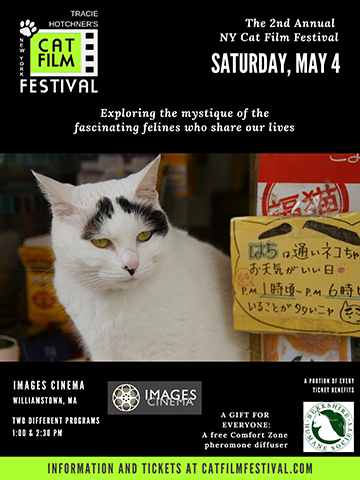 Tracie Hotchner's New York Cat Film Festival explores the mystique of the fascinating felines who share our lives, including philosopher cats, performing cats, and a heart-stealing animated kitten! The NY Cat Film Festival is an exploration through film of the fascinating felines who share our lives, creating a shared audience experience that inspires, educates and entertains. For far too long, felines have been the "invisible" part of the human-animal bond and it's time to shine the spotlight on these magnificent creatures and the humans devoted to them.
A portion of every ticket benefits the Berkshire Humane Society!
Feral Love is one of two cat-centric programs in the festival. (The other is NY Cat Film Festival: Cats Rule, a collection of short films.)
World-class violist Dorian Rence, who has performed with the New York Philharmonic for 40 years, has devoted her life to playing music, but she's just as passionately committed to caring for a small colony of feral cats in the railroad tunnels of New York City. Born in Oklahoma to a father who was both a farmer and a clarinet player, Dorian won her audition with the New York Philharmonic at the young age of 21. Only the seventh woman to become a member of the New York Philharmonic, Dorian has played with a vast array of famed conductors and soloists—everyone from Leonard Bernstein to Yo Yo Ma. Deftly incorporating vividly told stories of her life, career, and cats, and featuring several gorgeous performances by Dorian and her musical colleagues, this moving documentary tracks the violist as she goes about her selfless work as a caretaker of ferals, feeding and ultimately rescuing the elderly cats in her colony during a particularly brutal New York winter.
The annual NY Cat Film Festival will enhance our appreciation and understanding of who cats share our world, while benefiting local animal welfare groups and saluting those who work and volunteer on their behalf.
Please note: These films are free of physical or verbal abuse toward people or animals. The only tears you might shed would be tears of joy for happy endings. The programs are designed for adult audiences but can be enjoyed by all members of the family, including mature children.
More information can be found at catfilmfestival.com.