When:
November 27, 2020 @ 12:00 am – December 3, 2020 @ 11:45 pm
2020-11-27T00:00:00-05:00
2020-12-03T23:45:00-05:00
Where:
Images Cinema online
https://imagescinema.org/films/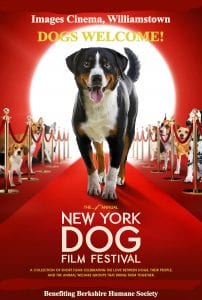 The Dog Film Festival™ will be available online through Images Cinema from November 27 to December 3. It is an annual celebration of the love between dogs and their people through short films from around the world that inspire, educate and entertain. With a New York City premiere of new dog-themed films every December, the double-feature of animated, documentary and narrative short films spreads the love traveling across the United States, benefiting local animal welfare groups that bring people and pets together.
Proceeds benefit Berkshire Humane Society and Images Cinema. Order tickets at https://imagescinema.org/films/
More information can be found at dogfilmfestival.com.