Apr
7
Tue
Cause for Paws Radiothon
Apr 7 @ 6:00 am – 6:00 pm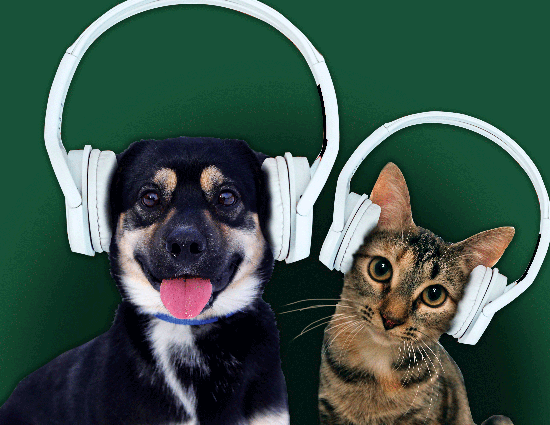 Cause for Paws Radiothon
April 7 from 6 a.m. to 6 p.m.
Live 95.9 and WHOOPEE radio stations
1-800-788-2147
Our 16th annual Cause for Paws Radiothon will be on April 7 from 6 a.m. to 6 p.m. on Live 95.9 and WHOOPEE radio stations. For a donation, you can request a song. Listener giveaways and raffles will happen throughout the day, and there will be a special raffle for anyone who joins as a Compassionate Caregiver. We'll have special guests featured too!
Proceeds from this event will benefit BHS's medical expenses, as well as the Ken Freeberg Fund, which helps underwrite the cost of extraordinary medical care for animals who would not be adoptable without this special attention. Make your donation/song request at 1-800-788-2147. (Phone number will not work until 6 a.m. on the day of the radiothon.)
Dine-to-Donate at Patrick's Pub

@ Patrick's Pub
Apr 7 @ 11:30 am – 10:30 pm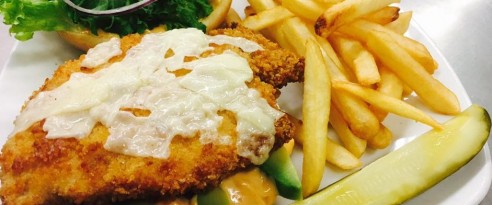 On April 7th you can dine-to-donate at Patrick's Pub! Put your food to work helping homeless animals by presenting the below coupon to your server to have 20% of your bill (before tax) donated to Berkshire Humane Society. Lunch, dinner and take-out too!
This is also the date of our 16th annual Cause for Paws Radiothon…don't forget to call in to request or dedicate a song for a donation. We're also looking to sign people up as members and Compassionate Caregivers. 6 a.m. – 6 p.m. 1-800-788-2147.
The below coupon can be printed and presented in person, or shown on your phone. Thank you for your support!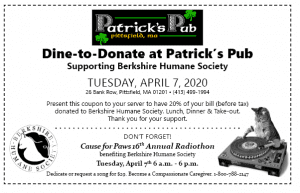 Apr
9
Thu
Lasagna Dinner benefiting Purradise

@ Crissey Farm
Apr 9 @ 5:30 pm – 8:00 pm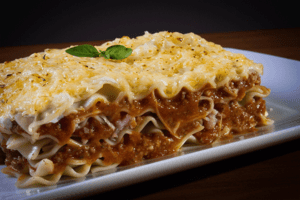 Berkshire Humane Society presents our annual
Lasagna Dinner benefiting Purradise
Our Satellite Feline Adoption Center in Great Barrington
Thursday, April 9
5:30 – 8:00 p.m.
Crissey Farm
426 Stockbridge Road, Great Barrington
---
Once again, Crissey Farm will dish up delish slices of lasagna to benefit the homeless cats at Purradise in Great Barrington. On April 9th, please join us for meat and veggie lasagna, salad, bread and a cash bar, as well as select and 50/50 raffles. It's a family friendly event in a beautiful venue for a wonderful cause!
Crissey Farm is located at 426 Stockbridge Rd., Great Barrington. Dinner will be served from 5:30 p.m. to 8:00 p.m with an early bird special from 5:00 p.m. to 5:30 p.m. Tickets will be available at the door: $14 Adults, $7 Children, $12 Early Bird. For more information, call (413) 447-7878, ext. 131.
Ticket Info:
Tickets will be sold at the door beginning at 5:00 p.m.
$14 Adults
$7 Children
$12 Early Bird Special 5-5:30 p.m.
Apr
16
Thu
Artists' Reception & Art Raffle

@ Berkshire Humane Society
Apr 16 @ 5:30 pm – 7:00 pm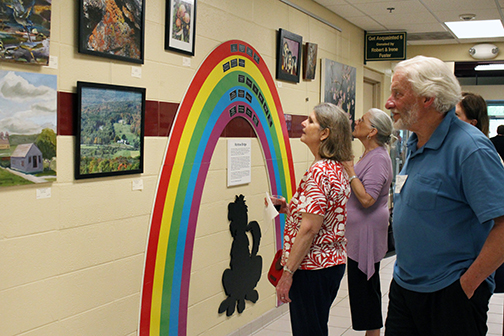 Please join us for our spring Artists' Reception and Art Raffle on Thursday, April 16, 2020 from 5:30 pm-7:00 pm.
The Berkshire Humane Art Gallery is a collaboration between Guild of Berkshire Artists and the Berkshire Humane Society and is located at the Berkshire Humane Society, 214 Barker Road, Pittsfield, MA 01201.
The current exhibition at the Berkshire Humane Society Art Gallery features over 80 works of original art by members of the Guild of Berkshire Artists. The artwork centers around the themes of animals, nature and wildlife and is for sale with a portion of the proceeds benefiting the Berkshire Humane Society. Visits to the Gallery are free and the gallery is open to the public during regular shelter hours.
A raffle of two pieces of donated artwork will be held during the artist reception. Information to follow.