May
4
Mon
Dine-to-Donate at Patrick's Pub

@ Patrick's Pub
May 4 @ 11:30 am – 10:30 pm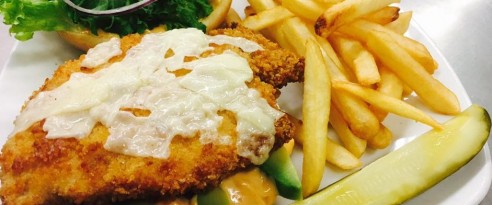 Note the new date! On May 4th you can dine-to-donate at Patrick's Pub! Put your food to work helping homeless animals by presenting the below coupon to your server to have 20% of your bill (before tax) donated to Berkshire Humane Society. Lunch, dinner and take-out too!
The below coupon can be printed and presented in person, or shown on your phone. Thank you for your support!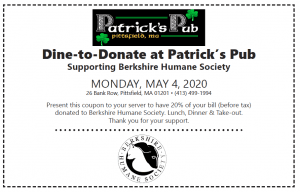 May
16
Sat
New York Cat Film Festival

@ Images Cinema
May 16 @ 2:00 pm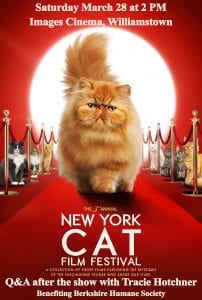 Tracie Hotchner's annual Cat Film Festival™ is a philanthropic celebration through film of our relationship with the mysterious felines who share our world.
After a New York City premiere every November, this collection of short films travels to dozens of cities nationwide, benefiting a local animal welfare group that works on behalf of kitty cats.
On Saturday, May 16, st 2:00 pm the film festival travels to Williamstown, Massachusetts where a portion of every ticket benefits Berkshire Humane Society.
For more information, visit catfilmfestival.com.
A film festival for dogs will take place at Images the next day, May 17, at 2:00 pm. Feel free to bring your dog for a $5 donation!
May
17
Sun
New York Dog Film Festival

@ Images Cinema
May 17 @ 2:00 pm
The Dog Film Festival™ is an annual celebration of the love between dogs and their people through short films from around the world that inspire, educate and entertain. With a New York City premiere of new dog-themed films every December, the double-feature of animated, documentary and narrative short films spreads the love traveling across the United States, benefiting local animal welfare groups that bring people and pets together.
The film festival will be at Images Cinema in Williamstown on Sunday, May 17, at 2:00 pm. A similar festival for cats will screen at 2:00 pm at Images the previous day, Saturday, May 16.
More information can be found at dogfilmfestival.com.
Dogs are welcome. ($5 – service dogs exempt)